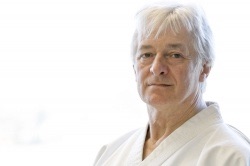 Stuart Vousden, 6th Dan
07986 809505
Stuart came to Karate in 1969 as a student of John Van Weenen. He took Shodan (1st Dan) black belt in 1974 and Nidan (2nd Dan) in 1977, by which time he was a student of Hirokazu Kanazawa. Stuart graded Sandan (3rd Dan) in 1983, having joined Jin Sei Kai in it's early days, Yondan (4th Dan) in 2004, Godan (5th Dan) Nov 2009 and 6th dan Dec 2015. Stuart observes "Karate is about unleashing and celebrating each individual's talents. It's also about mutual respect and building people's self-confidence. I believe everyone should be taught on an equal footing, regardless of age and ability - and that the wisest teacher is the one who recognises that he or she has much to learn from others"

---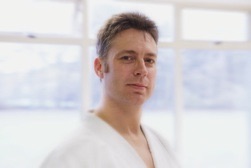 Andrew Vousden, 5th Dan
07793 370770
Andrew joined Shotokan Karate International in 1981, bitten by the karate bug he quickly reached the grade of 3rd Kyu under Sensei Kanazawa. He then moved to the newly formed Jin Sei Kai and continued to grow and flourish under the tutelage of Sensei Paul Perry. Andrew graded to 5th Dan in 2018
"Teaching Karate, whether to adults or children, is immensely rewarding. I really enjoy helping develop their technique and seeing their self confidence grow, and I'm passionate about ensuring that class content is varied and stretches each pupil's ability. I'm convinced that Jin Sei Kai's unique approach to training is something that sets us apart from the rest, and is the reason we have such a great club" observes Andrew.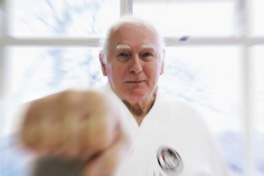 Sensi M. Gorman 8th dan.
Runs advanced classes and special visits to our local clubs.
"I spent my early years as a local Businessman promoting my two garages. I was a successful driver on the motor racing circuits of Britain retiring in 1974 and needing to fill the void; I came to Shotokan Karate International just after my 40th birthday. Within four years I had graded to Shodan. Already being Secretary for the Club, I also took on the roll of Administrator promoting and travelling many miles with Head Instructor Sensei Paul Perry and continuing in this roll at the foundation of JSK. I am no longer Administrator but continue as General Secretary."
---
Assistant instructors

We have several assistant instructors at our club who are always available to help and offer advice.
John Deller 5th Dan
Vince Willcox 5th Dan
Andy Hanson 5th Dan
Kulbir Thandi 3rd Dan